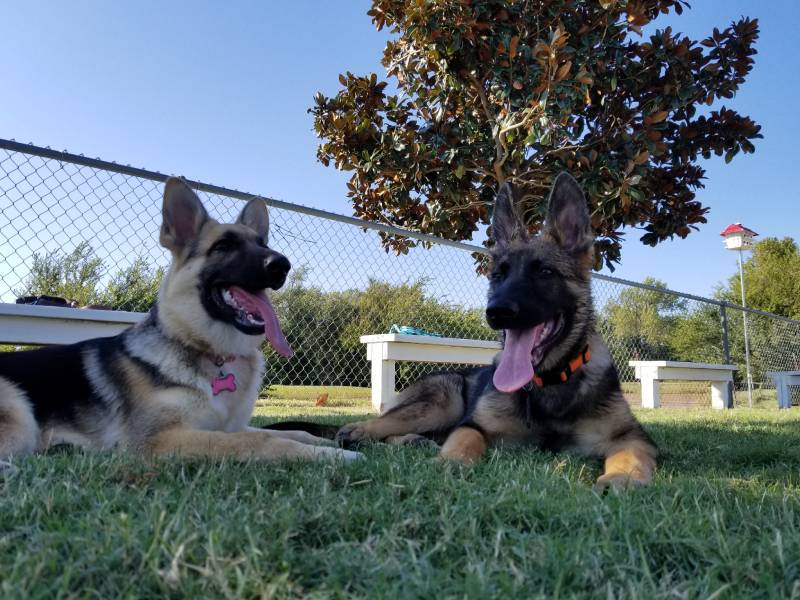 K9 university strives for client satisfaction! We have many happy clients who would love to share their stories with you. Take a look and read all of our testimonials below. If you are ready to start your training, please call us today at 405-621-5635, or you may e-mail us instead. 
"Thanks K9 University!"
We have never trained any of our dogs. Marshall, the yellow lab on the left, we wanted to train. We have so far just been through the four-week puppy class and I must say it was an incredible value for what we paid! We got incredible instruction and, even in a class situation, it seemed at times to be almost one on one as we were frequently asked to report what nuisance behaviors we were observing at home. We arrived early and stayed late each class to use the fenced in dog runs which was a great opportunity to let the puppies off leash to play and I would encourage anybody doing training to take advantage. Really this training is training the human. We learned some foundational commands and now at just 4 1/2 months old our dog can walk on a leash and "heel", he can "sit", had can "lay down", he most of the time will "leave it", he can "wait", and he will "come" to us when called. We still will continue to work with him and most likely enroll in the next Obedience course. Thanks K9 University!
"The Improvement Is So Wonderful!"
My Frankie was a bit of a train wreck- and I tried everything I could to get him not to want to pull and live on every person or dog he saw. It took 9 days, but the improvement is so wonderful! So good, I took my two girls in for a week to get them all under the same commands. Watch the videos for the results. Highly recommend - they love your dogs almost as much as you do.
"They Have An Incredibly Knowledgeable And Patient Staff."
Our only regret is not reaching out to this place sooner! They have an incredibly knowledgeable and patient staff, and since we have been coming here our GSD has made so much progress! We had to start with a special class for behavior issues (our pup struggles with fear aggression), and in that evening class we were given helpful strategies to work with our dog on his issues (and an opportunity to practice there). After a few weeks of repetition at home we were able to come back for a re-evaluation (no additional cost) and got the green light to move forward with their obedience programs. Last week Radar graduated basic obedience, and we will have him start intermediate next month. We are also bringing him in for day camps to help with socialization. All this to say that the changes we have seen because of the programs at K9U are almost unbelievable. Our dog still has a long way to go, but I can't imagine where we would be without the education we've received here. Prices are EXTREMELY reasonable (I was afraid initially since they didn't have prices listed on the website), and we have received a coupon for future training with the completion of each program we've done. We are moving in the Spring and very sad that we won't be able to continue through the advanced training here- but we will be getting in as much K9U as possible before we go! I cannot recommend them enough for ANYTHING related to your dogs behavior. Not only will they help, the improved relationship you'll have with your dog is something really special.
"We Are Looking Forward To Continuing"
We have GSD littermates which pose a unique problem when training is done together. K9U helped immensely with our pups becoming well-behaved delights! We are looking forward to continuing
"Will Highly Recommend!"
We have a very stubborn Parson Terrior. Training was frustrating and unrewarding so enrolled her in the basic class. We learned what our dog was trying to do (play!) and how to make training more productive. Lots of tips and tricks in working with our dog. Will highly recommend!
"I Highly Recommend This Place For All New Pet Parents"
The trainer is terrific. The facilities are great. The trainer was extremely knowledgeable and patient. She handled our Husky unbelievably well. No tugging or pulling while on the leash. She did an amazing job introducing our new, adult Husky to our adult teacup Chihuahua. I highly recommend this place for all new pet parents, as well as experienced parents who have not received much training. Much of the training is education for the dog owners. A±++
"The Staff Was Amazing And Even Checked On Us A Week Or So Later To See How Things Were Going"
If you have a new pup, K9 University's boarding school is the way to go! Taylor taught my puppy sit, come, down, heel, off, and leave it. My pup was a jumper and they stopped that within 6 days. She also taught my pup how to use a bell to let me know when she has to go potty. At pick-up, Taylor taught me how to continue the training at home. When I'm ready for my dog to learn even more skills, I'll definitely be going back. Also, the staff was amazing and even checked on us a week or so later to see how things were going. Also, their pricing was the most reasonable I found and I did research for weeks. It's crazy what people charge for dog training! K9 University is the way to go!
"Highly Recommend."
Knowledgeable, friendly staff. Great class experience. Finished basic obedience and signed up for an intermediate class. Highly recommend
"I Would Highly Recommend Attending K9."
This was my first experience ever with professional obedience training and K9 blew my expectations away. The staff is very professional and knowledgeable. The course I went through was very effective at teaching me how to be a better handler and has resulted in a lot better obedience from my dog that I am practicing all my tools. I would highly recommend attending K9.
"Highly Recommend K9 University."
Our Standard Poodle, Chill, did great in his basic obedience class! He was not ever willing to be a volunteer, but took to the lessons very well and learned quickly. I love that it's not just about training the dog, but as the handler, learning how to read your dog and what they're going to do. Nicole was our instructor, and she was so great with the dogs and very informative. Instructors will also answer emails outside of class if you have questions while working on homework... yes, there is homework! Don't plan on attending a group class and not have to do any work at home. They teach you what you need to know, then you HAVE to work with your dog. Highly recommend K9 University.
"We Will Always Sing K9 Universities' Praises!"
Great local business with great knowledge on how to best train your dog. We have a large dog that typically can have behavior issues, but from a puppy we took him through classes and now he is the best behaved, good boy and strangers always compliment how well-behaved he is. We will always sing K9 Universities' praises!
"This Is My 3rd Dog And 7th Class To Take With This Team."
Just completed Basic Obedience with my future therapy dog Turpie. Taking the class to get our AKC Canine Good Citizen designation. K9U is a great place to train and expose your dog to other dogs and people in a safe environment. This is my 3rd dog and 7th class to take with this team.
"Nicole Has Been Great With Our Two Great Danes And Guiding Us While We Raise Them!"
I have had several private lessons for my pups and they have been so worth it for us. We have learned more than we ever would have known to train our pups. Nicole has been great with our two great danes and guiding us while we raise them!
"It Was Well Worth The Time And Money Spent."
The trainers at K9 University know how to work their magic! I took my dog through both the beginner and intermediate courses here and have to say it was well worth the time and money spent. Not only was it a fun way to bond, but the trainers provided the tools needed to help my pup become the perfect companion!
"We Are So Pleased With The Results"
This is a great place!!! We took our 8-month-old Doberman and he did great. Their method of training is just great using just positive reinforcement. We are so pleased with the results for that reason we took him to the 3 levels of training, basic medium and advanced. We still have to work on him but he definitely enjoyed going to class. Price is actually very affordable for the training quality